FOR IMMEDIATE RELEASE
RESIDENTS ENCOURAGED TO HELP DESIGN DISTRICT SHAPES
ANAHEIM, CA – (May 28, 2015) – Community meetings are being held to gather comments and ideas for drawing district boundaries. The Advisory Committee on Electoral Districts is reaching out to residents by meeting on various evenings and in neighborhood communities, as well as City Hall.
The next meetings, to be held at 6:30 p.m., are set for Thursday, June 4, at the Brookhurst Community Center, 2271 W. Crescent Ave; Tuesday, June 9 at the East Anaheim Community Center, 8201 E. Santa Ana Canyon Rd.; Wednesday, July 1 at City Hall, 200 S. Anaheim Blvd, 1st floor; and Wednesday, July 8 at Ponderosa Family Resource Center. Read more…
(1) Case Dismissed, Merits Remain
Yesterday, OCCORD lost its lawsuit against the City of Anaheim's giveaways to Bill O'Connell, owner of the GardenWalk hotel project in front of Judge David McEachen of what Matt Cunningham's unconscious mind describes in his story as the "Superior Curt."  Seriously.  Somewhere, Sigmund Freud is applauding.
Interest declared: your humbe author is CATER's General Counsel and, as the Cunningblog notes, OCCORD "has been represented in this suit by liberal litigator Cory Briggs (who is also CATER's partner-in-litigation against the Anaheim Convention Center expansion)" — which is true if by "is" one means "was, but hasn't been since the matter was settled half a year ago."  CATER doesn't disclaim our former association with Briggs, though: another judge might have come to a different conclusion in this case (something that Anaheim certainly recognizes when it loses) and we admire and appreciate Briggs's and OCCORD's willingness to put the city's kleptocracy to the test. Read more…
ORANGE COUNTY DISTRICT ATTORNEY PRESS RELEASE
Case # 15NF1360
Date: May 21, 2015
MAN ARRAIGNED FOR HUMAN TRAFFICKING, ATTEMPTED PIMPING, AND PANDERING OF UNDERCOVER OFFICER WHOM HE BELIEVED TO BE MINOR GIRL, ON FACEBOOK
FULLERTON – A man was arraigned today on charges of human trafficking, attempted pimping and pandering of an undercover officer, whom believed to be a minor girl, on Facebook. Brandon Roosevelt Starks, 30, Fresno, is charged with one felony count of human trafficking, one felony count of attempted pimping of a minor, one felony count of pimping, and one felony count of pandering. If convicted, he faces a maximum sentence of 13 years and four months in state prison. He is scheduled for a pre-trial hearing on June 1, 2015, at 8:30 a.m. in Department N-12, North Justice Center, Fullerton.
Circumstances of the Case
Starksis accused of being a human trafficker/pimp who exploits women and/or children for financial gain. With the rise in popularity of social media and ease of meeting people on the Internet, many pimps and human traffickers utilize a variety of social media to locate potential victims. Read more…
FOR IMMEDIATE RELEASE
Media contact:  Ruth Ruiz, (714) 765-5060 office, (714) 420-7797 mobile
ANAHEIM HONORS MEMORIAL DAY WITH LAUNCH OF HOMETOWN HEROES VIDEO SERIES
ANAHEIM, Calif. (May 23, 2015)  As our nation celebrates Memorial Day this weekend, the City of Anaheim would also like to salute local resident, WWII veteran and Bronze Star recipient Dr. William Kott by featuring him in the launch of the City's new Hometown Heroes video series.
Dr. Kott served in General George S. Patton's Third U.S. Army, fought in the Battle of the Bulge and helped liberate the Buchenwald concentration camp.  He returned home when many of his fellow comrades and friends did not.  We honor those men and women on Memorial Day. Read more…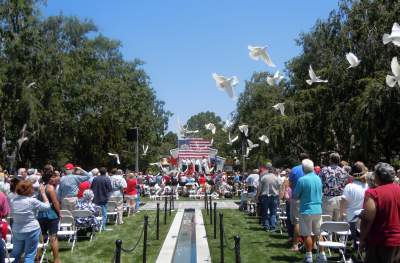 ANAHEIM
Memorial Day Services
Monday, May 25th at the Anaheim
Cemetery
11 am – Program
1400 E. Sycamore St., Anaheim, CA 92805
More Information
FULLERTON
Honoring the Greatest Generation
Monday, May 25th at Loma Vista
Memorial Park
10 am – Program
701 E. Bastanchury Rd., Fullerton, CA 92835
More Information Read more…
FOR IMMEDIATE RELEASE
Media contact: Lt. Eric Trapp, Public Safety PIO (714) 497‐5305
ANAHEIM FIRE & RESCUE RECOGNIZES THE PROMOTIONS OF 16 FIRE SERVICE PROFESSIONALS AND WELCOMES 19 NEW FIREFIGHTER/PARAMEDICS
ANAHEIM, Calif. (May 22, 2015) –Anaheim Fire & Rescue held its Promotion & Graduation Ceremony at the City National Grove of Anaheim this morning. 16 Fire service professionals were recognized for their individual promotion received over the past year. In addition, 19 new Firefighter/Paramedics received their badges and officially joined Anaheim Fire & Rescue.
More than 350 family members, city officials and community leaders were on hand to celebrate with the honorees along with ABC7 Eyewitness News Bureau Chief Eileen Frere who served as the ceremony's emcee. Read more…
PUBLIC INFORMATION OFFICE
Raul Quezada, Chief of Police
PRESS RELEASE, FOR IMMEDIATE RELEASE: May 22, 2015
Released by: Lt. Eric Trapp, Contact: (714) 497-5305
Subject: Anaheim Police Department DUI/Driver's License Checkpoint and Saturation DUI Patrols
The Anaheim Police Department Traffic Unit will be conducting a DUI/Driver's License checkpoint on Lincoln Avenue at Anaheim Boulevard in addition to special DUI Roving Saturation Patrols during the Memorial Day weekend. Read more…